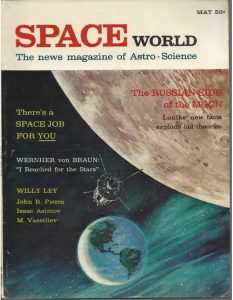 Major articles in the May 1960 issue:
7) HOW WE CAN BEAT THE RUSSIANS, By Ernest Haussman
12) ALL ABOUT ORBITS, by Willy Ley
14) THE BIG JUMP, by Ralph Tenner
16) I REACHED FOR THE STARS, by Wernher von Braun
20) ON THE TRACK OF THE MISSILES, by John Rublowsky
24) EINSTEIN VERSUS THE ATOMIC CLOCK, by Isaac Asimov
26) LET'S BE PRACTICAL ABOUT SPACE, by John R. Pierce
28) THERE'S A SPACE JOB FOR YOU, by Robert C. Granville
30) SECRETS THE SATELLITES ARE TELLING, by Otto Binder
36) ASSAULT ON THE MOON, by M. Vassiliev
40) THEY WERE THE FIRST, by Richard Wylie
Issue has been scanned with OCR software, making it searchable for text and phrases. Due to the variability of OCR accuracy, no warranty is expressed or implied regarding the ability to successfully locate specific words or phrases in the texts.
Purchaser agrees to use the download for personal use only, and agrees not to redistribute, republish, host, copy, lend, or otherwise distribute the downloaded issue to any other parties.