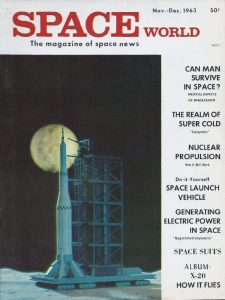 Major articles in the Nov-Dec 1963 issue:
4) CAN MAN SURVIVE IN SPACE, by Frank B. Voris, M.D.
10) DO-IT-YOURSELF SPACE LAUNCH VEHICLE
12) MAGNETOHYDRODYNAMICS
Generating electrical power by magnetohydrodynamical means
16) CRYOGENICS
The realm of super cold
23) ALBUM
X-20 Flight
31) SPUR
32) SPACE SUITS, by James V. Correale, and Walter W. Guy
Mercury to Apollo
36) BACTERIA, by Richard S. Young
The survival and growth of earth organisms on extraterrestrial bodies
40) NUCLEAR PROPULSION by Walter T. Olson
Capabilities and principles of nuclear propulsion
46) BOOK REVIEWS
48) ROCKET CLUBS
49) THE LAUNCH PAD
Issue has been scanned with OCR software, making it searchable for text and phrases. Due to the variability of OCR accuracy, no warranty is expressed or implied regarding the ability to successfully locate specific words or phrases in the texts.
Purchaser agrees to use the download for personal use only, and agrees not to redistribute, republish, host, copy, lend, or otherwise distribute the downloaded issue to any other parties.