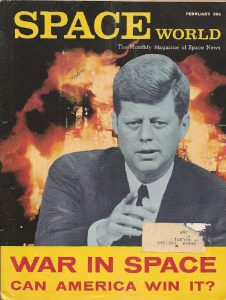 Major articles for February 1962:
11) SPACEWAYS NEWSLETTER, by Willy Ley
19) IF SPACE WAR COMES, by Ernest Haussman
24) WE ARE NOT READY, by Gen. Bernard A. Schriever
25) MAN ON THE HOT SEAT, by George Kirk
28) TELESCOPE IN SPACE
39) WE MUST BEAT THE RUSSIANS TO THE MOON
34) THE WEAPONS—PART I, by Robert Granville
35) THE WEAPONS—PART II, by Marvin Kepler
39) THE MILITARY SPACEMAN, by Otto O. Binder
42) PROSPECTORS OF PEACE, by Norman Weale
55) SATURN SUCCESS
Issue has been scanned with OCR software, making it searchable for text and phrases. Due to the variability of OCR accuracy, no warranty is expressed or implied regarding the ability to successfully locate specific words or phrases in the texts.
Purchaser agrees to use the download for personal use only, and agrees not to redistribute, republish, host, copy, lend, or otherwise distribute the downloaded issue to any other parties.