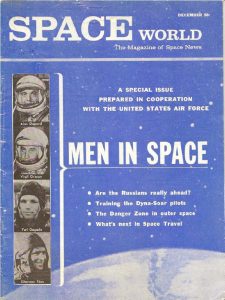 Major articles for December 1961:
13) What's Ahead in Space Travel by George P. Sutton
16) Spaceman's Enemy – the Sun by Walter Orr Roberts
18) Scout Launch
20) Seeing and Hearing in Space by Hubertus Strughold
22) The Danger Zone by James A. Van Allen
25) Now in Training – Dyna-Soar Pilots by Col. Burt Rowen
28) The Problem of Sterilization by E. Staten Wynne
32) To the Breaking Point by Bryce O. Hartman
37) Preparing Man for Space by A. Blagonravov
40) Picture News
Issue has been scanned with OCR software, making it searchable for text and phrases. Due to the variability of OCR accuracy, no warranty is expressed or implied regarding the ability to successfully locate specific words or phrases in the texts.
Purchaser agrees to use the download for personal use only, and agrees not to redistribute, republish, host, copy, lend, or otherwise distribute the downloaded issue to any other parties.