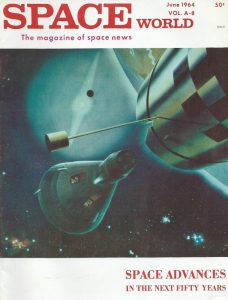 This issue is being offered FREE OF CHARGE to show potential readers the type of content found in the magazine. This material is typical of an average issue.
Major articles in the June 1964 issue include:
4) SPACE ADVANCES IN THE NEXT FIFTY YEARS by Dandridge
M. Cole.
10) IONOSPHERE BEACON SATELLITE.
14) LITTLE GIANT OF THE SPACE AGE by Ralph Balent
A miniature nuclear reactor will provide electricity to keep man alive in space.
19) UK-2 International Scientific Satellite.
20) SUPERSONIC JET FLIGHT.
22) ALBUM: Gemini Launching Sequence.
31) SATELLITE REPORT.
32) MARS — The Red Planet.
34) HOW I TRACKED DOWN THE FIRST OFFICIAL u.s. MISSILE MAIL by William Ronson.
36) SEE THE MYSTERY OF THE MOON AT NEW YORK WORLD'S FAIR.
39) IN THE NEWS
43) ROCKET CLUBS
44) SPACE QUIZ
45) BOOK REVIEWS
48) THE LAUNCH PAD
Issue has been scanned with OCR software, making it searchable for text and phrases. Due to the variability of OCR accuracy, no warranty is expressed or implied regarding the ability to successfully locate specific words or phrases in the texts.
Purchaser agrees to use the download for personal use only, and agrees not to redistribute, republish, host, copy, lend, or otherwise distribute the downloaded issue to any other parties.