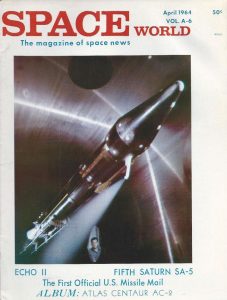 Major articles for April 1964:
4) ECHO II
8) RANGER 6 Moon Shot
11) FIFTH SATURN SA-5
20) THE FIRST OFFICIAL UNITED STATES MISSILE MAIL by William Ronson
23) ALBUM
Atlas Centaur AC-2
31) TRAFFIC COP IN SPACE by Kenneth Calkins
33) BIOASTRONAUTICS
Life Sciences: basic research for Man's Supreme Challenge
40) MAKING LIKE A METEOROID by William Clarke
42) IN THE NEWS
46) BOOK REVIEWS
47) LAUNCH PAD
Issue has been scanned with OCR software, making it searchable for text and phrases. Due to the variability of OCR accuracy, no warranty is expressed or implied regarding the ability to successfully locate specific words or phrases in the texts.
Purchaser agrees to use the download for personal use only, and agrees not to redistribute, republish, host, copy, lend, or otherwise distribute the downloaded issue to any other parties.