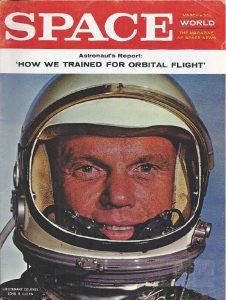 Major articles in the March 1962 issue:
11) SPACEWAYS NEWSLETTER, by Willy Ley
18) HOW WE TRAINED FOR ORBITAL FLIGHT, by Donald K. Slayton
27) ARE WE MOVING TOO FAST? by James van Allen and Jacob Javits
28) IS OUR SPACE PROGRAM BANKRUPTING AMERICA? by Robert Granville
30) MOON VEHICLES
A picture report on the vehicles being made for lunar exploring
32) SPACE DOCTOR, by Shirley Thomas
34) LIFE ON VENUS, by John Rublowsky
38) LAUNCHING PAD IN SPACE, by Otto O. Binder
42) CAN SPACE PROLONG YOUR LIFE? by Walter Page
45) AMERICA'S UNDERGROUND MISSILEMEN, by James Barr and William Howard
48) THE BIG NOISE, by Winston Wakefield
Issue has been scanned with OCR software, making it searchable for text and phrases. Due to the variability of OCR accuracy, no warranty is expressed or implied regarding the ability to successfully locate specific words or phrases in the texts.
Purchaser agrees to use the download for personal use only, and agrees not to redistribute, republish, host, copy, lend, or otherwise distribute the downloaded issue to any other parties.