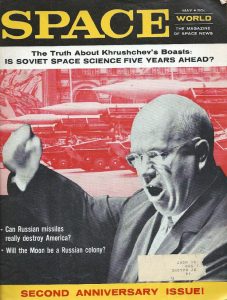 Major articles in the May 1962 issue:
11) SPACEWAYS NEWSLETTER, by Willy Ley
20) THE TRUTH ABOUT KHRUSHCHEV'S BOASTS, by Ernest Haussman
26) AMERICA IN SPACE, by Martin Caidin
29) SEVEN SATURNS, by Alan Gore
32) IOWA WIZARD, by James Fuller
36) THE ULTIMATE ENGINE
The ion engine can revolutionize our concepts of space travel
38) HOW WE'LL NAVIGATE IN SPACE, by Peter Nash
42) ALL ABOUT THE X-15, by Otto O. Binder
47) WALKING IN ZERO-G SHOES, by John Prokausch
48) DEATH RAY WEAPONS, by Robert Granville
50) SCHOOL FOR ASTRONAUTS, by Maj. Gen. Waldron
54) GUIDES IN SPACE
New Minneapolis-Honeywell gyro-systems will guide our missions
Issue has been scanned with OCR software, making it searchable for text and phrases. Due to the variability of OCR accuracy, no warranty is expressed or implied regarding the ability to successfully locate specific words or phrases in the texts.
Purchaser agrees to use the download for personal use only, and agrees not to redistribute, republish, host, copy, lend, or otherwise distribute the downloaded issue to any other parties.