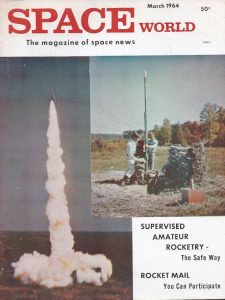 Major articles for March 1964:
4) A DAY ON THE MOON
6) THE CREATIVE SCIENTIST by Dr. Glenn T. Seaborg
10) CHANGES IN LITTLE JOE II PROPULSION
13) MANNED SPACE STATIONS by Edward H. Olling
16) SUPERVISED AMATEUR ROCKETRY by Bill Ronson
22) IF YOU FIND A METEORITE
23) ALBUM
Supervised amateur rocketry – the safe way
31) NASA'S YEAR IN SPACE
32) THE SCIENCE OF RECOVERY
40) RELAY I REFUSES TO STOP OPERATING
Scheduled to silence itself in 1963.
41) NEWS PHOTOS
44) BOOK REVIEWS
47) ROCKET CLUBS
48) LAUNCH PAD
Issue has been scanned with OCR software, making it searchable for text and phrases. Due to the variability of OCR accuracy, no warranty is expressed or implied regarding the ability to successfully locate specific words or phrases in the texts.
Purchaser agrees to use the download for personal use only, and agrees not to redistribute, republish, host, copy, lend, or otherwise distribute the downloaded issue to any other parties.