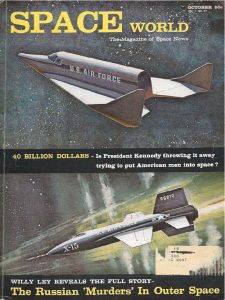 Major articles for October 1961:
12) Murder in Outer Space, by Willy Ley
16) Macro Life, by Dandridge Cole
18) Woomera
20) Why They Reject the Space Age, by R. C. Southern
23) Space Cartoonist, by John Rublowsky
26) Learning to Live on the Moon, by James Gaume
30) Power for Interplanetary Travel, by Max Hunter and Edward Bonnett
35) Cape Carnival, by Ernest Haussman
38) Picture News
47) How to Make a MoonWatch Telescope
Issue has been scanned with OCR software, making it searchable for text and phrases. Due to the variability of OCR accuracy, no warranty is expressed or implied regarding the ability to successfully locate specific words or phrases in the texts.
Purchaser agrees to use the download for personal use only, and agrees not to redistribute, republish, host, copy, lend, or otherwise distribute the downloaded issue to any other parties.