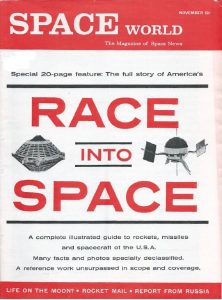 Major articles for November 1961:
12) IS THERE LIFE ON THE MOON? by John Rublowsky
16) WHAT'S IN SPACE FOR YOU?
18) BATTLE OF THE BOOSTERS, by Oihz O. Binder
20) U.S. SPACE VEHICLE GUIDE
40) PACIFIC MISSILE RANGE, by Rear Adm. Jack P. Monroe, USN
42) ROCKET MAIL, by Willy Ley
44) SAFE ROUTES FOR MANNED SPACE FLIGHT, by Georgy Pokrovsky
Issue has been scanned with OCR software, making it searchable for text and phrases. Due to the variability of OCR accuracy, no warranty is expressed or implied regarding the ability to successfully locate specific words or phrases in the texts.
Purchaser agrees to use the download for personal use only, and agrees not to redistribute, republish, host, copy, lend, or otherwise distribute the downloaded issue to any other parties.