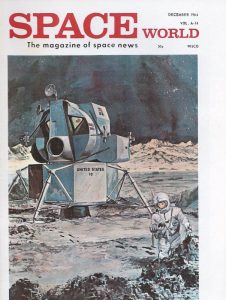 Articles for December 1964:
4) LAW AND A POLICEMAN IN SPACE with The Magna Carta of
Space by William A. Hyman.
3) BASIC SYSTEMS FOR MANY MISSIONS by B. H. Rbwletl.
13) NEXT STOP: MARS by Harold Carr.
16) ALL PURPOSE MOON VEHICLE.
13) WAVE THEORY CASTS NEW LIGHT ON IONOSPHERE.
20) PEGASUS.
22) MEDICAL SUPPORT OF MANNED SPACEFLIGHT by Charles
A. Berry, M.D.
23) ALBUM – Life In Space.
31) SATELLITE REPORT.
36) Static Tests Begin — EUROPA I.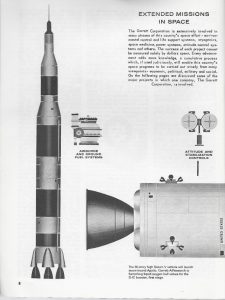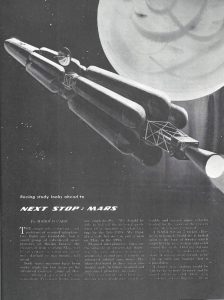 DEPARTMENTS
37) IN THE NEWS
43) ROCKET CLUBS
47) BOOK REVIEWS
48) THE LAUNCH PAD
Issue has been scanned with OCR software, making it searchable for text and phrases. Due to the variability of OCR accuracy, no warranty is expressed or implied regarding the ability to successfully locate specific words or phrases in the texts.
Purchaser agrees to use the download for personal use only, and agrees not to redistribute, republish, host, copy, lend, or otherwise distribute the downloaded issue to any other parties.