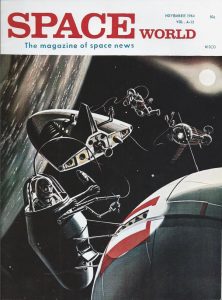 Major articles for November 1964:
4) SYNCOM III
8) NIMBUS I.
11) PROGRESS FOR SAFER MANNED SPACEFLIGHTS by James N. Waggoner, M.D.
16) NEW EVIDENCE CONCERNING THE LUNAR SURFACE by Prof. Thomas Gold.
22) ALBUM ~ The First Seven
32) PERSONAL SATELLITE CALLS, TV IN I965.
34) MORL — Manned Orbiting Research Laboratory.
37) WOMEN IN THE SPACE EFFORT ~ Equal Opportunities in NASA by Miss Stanlee Miller, NASA
45) ROCKET CLUBS
47) BOOK REVIEWS
49)  THE LAUNCH PAD
Issue has been scanned with OCR software, making it searchable for text and phrases. Due to the variability of OCR accuracy, no warranty is expressed or implied regarding the ability to successfully locate specific words or phrases in the texts.
Purchaser agrees to use the download for personal use only, and agrees not to redistribute, republish, host, copy, lend, or otherwise distribute the downloaded issue to any other parties.