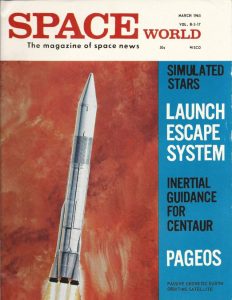 Articles for March 1965:
4) PAGEOS ~ Passive Geodetic Satellite by Dewey L. Clemmons, Jr.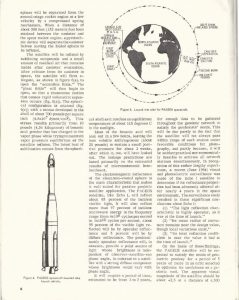 8) SIMULATED STARS.
11) NOISE DURING SPACE MISSIONS.
12) INERTIAL GUIDANCE FOR CENTAUR.
14) LAUNCH ESCAPE SYSTEM.
17) SOLAR TRACKING FACILITY.
20) SPACE MANEUVERING AND CONTROL.
22) ALBUM.
31) SATELLITE REPORT.

DEPARTMENTS
32) IN THE NEWS
37) RUSSIAN REPORT
39) ROCKET CLUBS
47) THE LAUNCH PAD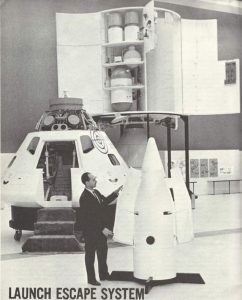 Issue has been scanned with OCR software, making it searchable for text and phrases. Due to the variability of OCR accuracy, no warranty is expressed or implied regarding the ability to successfully locate specific words or phrases in the texts.
Purchaser agrees to use the download for personal use only, and agrees not to redistribute, republish, host, copy, lend, or otherwise distribute the downloaded issue to any other parties.