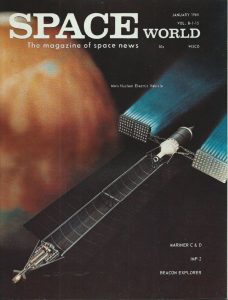 Articles for January 1965:
4) MARINER C AND D
11) SPACE WORLD'S 1964 AWARD Most Significant Space Achievement
17) BEACON EXPLORER
20) MEM Study
23) ALBUM – The Moon
31) SATELLITE REPORT
32) MERCURY MONUMENT
36) GEMINI SPACE SUIT. Qualification Process for first Manned Flights
38) DESIGNING A MOONMOBILE
40) IMP-2. An Interplanetary Monitoring Platform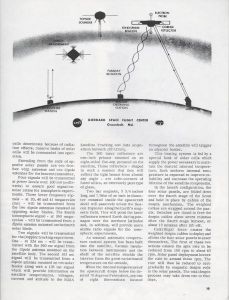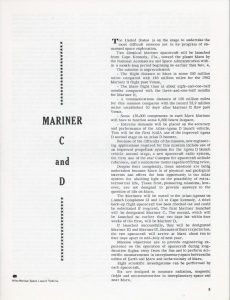 DEPARTMENTS
43) IN THE NEWS
45) BOOK REVIEWS
46) ROCKET CLUBS
48) THE LAUNCH PAD
Issue has been scanned with OCR software, making it searchable for text and phrases. Due to the variability of OCR accuracy, no warranty is expressed or implied regarding the ability to successfully locate specific words or phrases in the texts.
Purchaser agrees to use the download for personal use only, and agrees not to redistribute, republish, host, copy, lend, or otherwise distribute the downloaded issue to any other parties.